Membership & Lapel Pin Order Information:
 Join Today! Rise Up, Oh Men of God.
Our goal is to unite all Christian Men nationwide to meet our Mission and Vision. Membership is Free and any donation is accepted to help cover overhead of the organization. Donations would be used to cover the cost of nationwide unification of Christian men and not a means to raise funds as a PAC and donate to candidates' campaigns. As a member organization we plan to approve and recommend certain community and political leaders for local, state and national offices. During major political campaigns and elections we will ask members to make donations directly to the candidate's campaign. We do not plan to collect funds and make one large contribution. With that said, we plan to have a major voice in elections with the collective donations made by our members. Donations will also be used to provide educational material and organize state and/or national conferences for our members. The educational material will be focused on maturing men in their faith, evangelizing others to the faith, and nurturing all men.
Member lapel pins featuring both the American and Christian flags are available for $3.00 each to cover the cost of the pin, postage, and handling.
Donations and lapel pin orders can be paid on-line with a major credit card, through PayPal, or checks can be mailed to our office address. Make checks payable to Men of God and Country, LLC.
Note: Since we are not a 501(c)(3) or tax exempt organization our donations are not tax deductible. If we were, we would not be able to participate in political campaign efforts.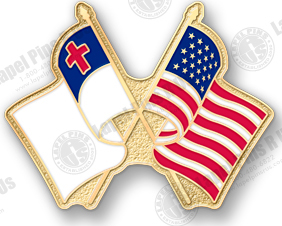 MEN of God and Country Lapel Pin featuring both the American and Christian flags
$3.00 each includes shipping.
[include]lapelpin.htm[/include]